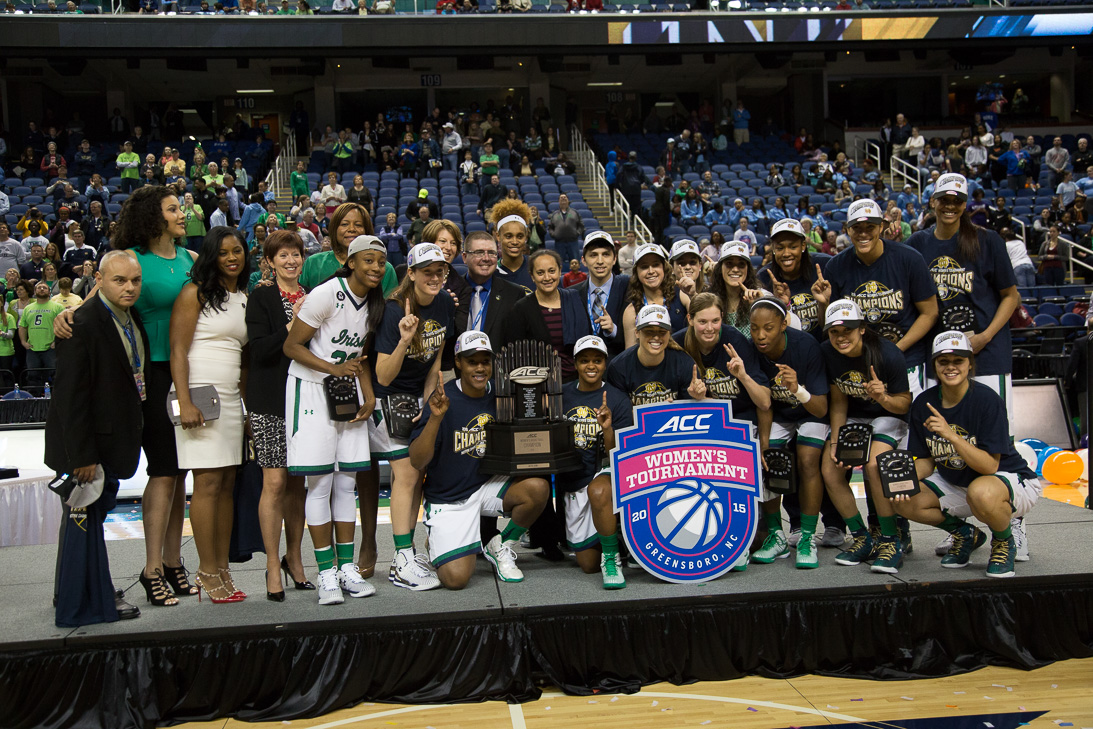 Special Contributor: Logan Carter
Photos: Dana E. Warren
GREENSBORO-- The Notre Dame women seem to like their new conference home just fine, as they won their second ACC Women's Basketball Tournament in as many appearances Sunday at the Greensboro Coliseum. The Irish dispatched No. 2 Florida State 71-58, mainly by winning the rebound battle and owning the paint offensively. The Irish scored 50 of their 71 points in the paint and outrebounded the Seminoles 39-27.
Sensational junior Jewell Loyd captured tournament Most Valuable Player honor, scoring 16, 18 and 21 points on consecutive days to lead the Irish. The award was just another piece of hardware for Loyd, who was named ACC Player of the Year on Wednesday. The Irish now look toward Selection Sunday and a sure top seed in the NCAA Tournament.
"I'm really proud of this team for where we came from to win this," coach Muffet McGraw said. "To go through the league with just one loss I think was a remarkable accomplishment. We had so many new pieces to fit together and I think with Jewell Loyd's leadership we were able to just get a little bit better every game."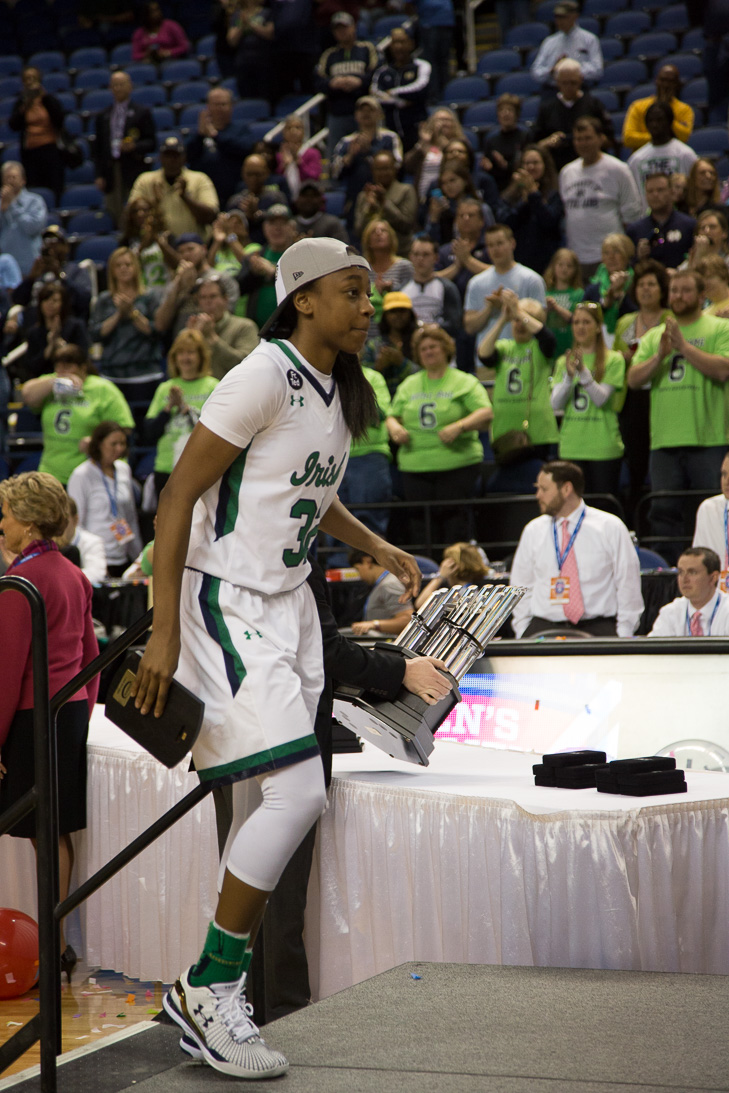 Florida State earned its way into the tournament by dispatching Louisville, the No. 3 seed, 66-51. The Seminoles' top scorer Saturday, Ivey Slaughter, was held in check and scored only 4 points in Sunday's final.  While FSU's defense held the Cardinals to 36 percent shooting, Notre Dame went 31-60 for the game, leaving little doubt as to the outcome.
The Irish took the lead for good in the first half, going on a 10-0 run over two minutes to take a 30-19 lead. It didn't help that the Seminoles missed 8 of their last 9 field goal attempts, and they trailed by 13 going into the half. The Irish went on a 6-0 run to open the second half and stormed to a 22-point lead thanks to the play of Loyd and teammates Brianna Turner and Taya Reimer.
"I thought it (balance) was really key," McGraw said. " Everybody's going to key on Jewell and try to take her away, so when somebody else can come in and make shots I think it's really great for the team."
As the balloons and confetti dropped from the ceiling of the coliseum, the Irish celebrated with each other and their many fans who made the trip south. Next week, they will find out their regional destination as they set their eyes on another national championship.