Thursday's second round of the ACC Women's Basketball Tournament, at least on paper, looked to be a day filled with mismatches save for a nightcap featuring Georgia Tech and North Carolina.
The paper sometimes lies.
Game One: No. 5 Syracuse vs. No. 13 Wake Forest
Wake Forest committed 16 first-half turnovers, digging itself a hole early. Good thing Syracuse went 0-11 from behind the arc, huh? Wake Forest, on the other hand, seemingly couldn't miss and pulled a 85-79 upset. The Deacs had four players in double figures, featuring another double-double by Dearica Hamby. Freshman Amber Campbell had a career night with 21 points, while Kandice Ball and Millesa Calicott both contributed 14.
The win over Syracuse marked only the second time in school history that Wake Forest had won back-to-back games in the tournament, the last coming in 2012. The Demon Deacons actually pushed the lead over the nationally-ranked Orange to 15 before a furious rally fell short. Orange coach Quentin Hillsman blamed foul trouble for his team's performance, but those who watched know the real reason for the upset: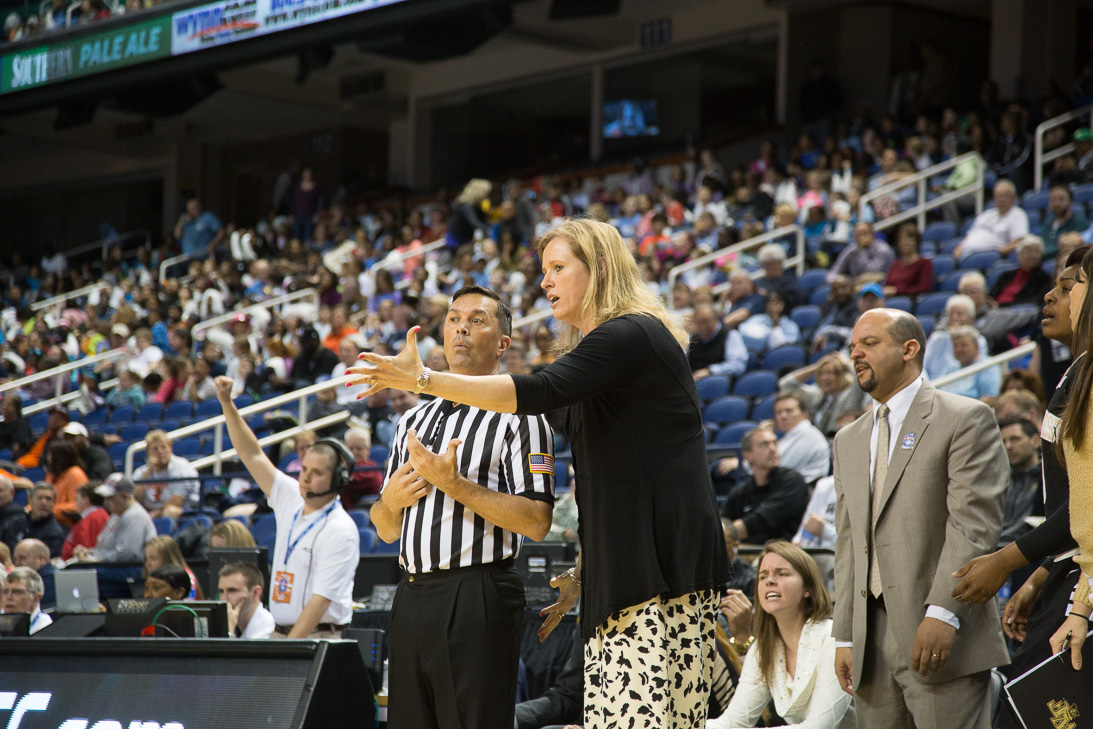 Game Two: No. 8 Miami vs. No. 9 Virginia
The 'Canes and Cavaliers traded punches for 27 minutes of Thursday's second round before a 10-2 run by Miami in the second half proved enough for a 62-52 win. Sophomore Adrienne Motley scored 15 points while teammate Necole Sterling dropped 13 for Miami. The moral of the story from this game is, if you're going to have 9 straight empty possessions, bad things usually await.
Adios, UVa.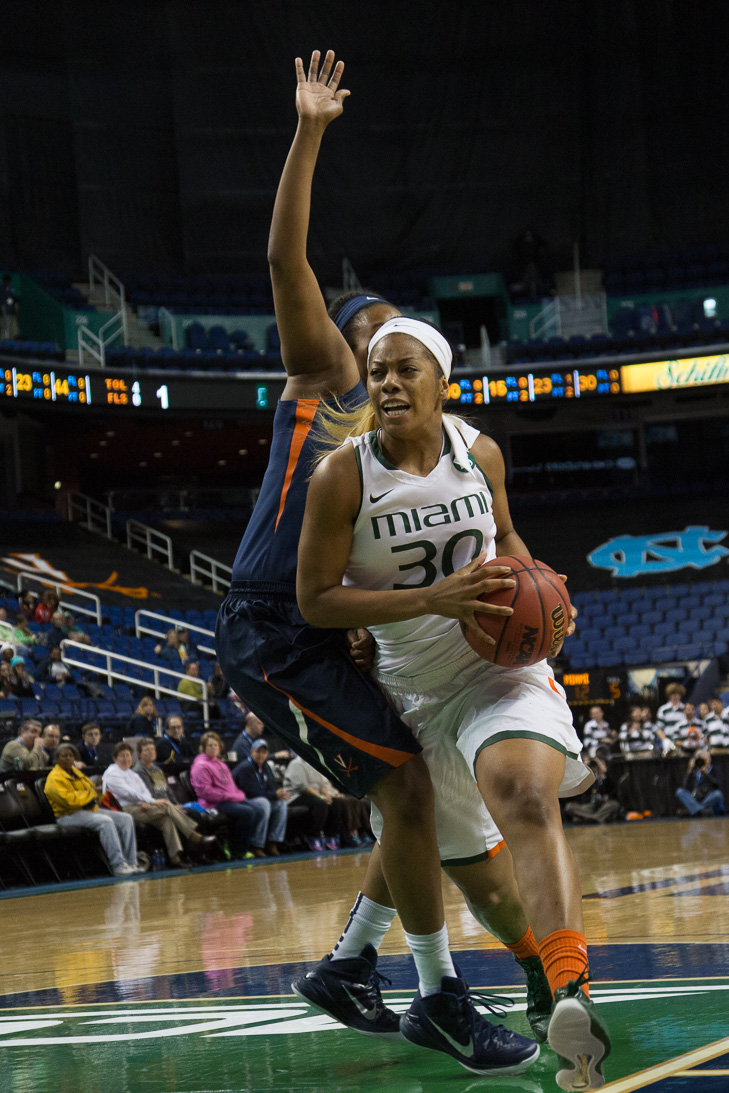 Game Three: No. 7 Pitt vs. No. 15 Virginia Tech
This post-dinner game was played in front of 174 people including fans, assembled media and coliseum staff. I'd say this game was dog-ugly, but I love dogs. Pitt, picked to finish last in the league before the season, enjoyed a season that will land them in the NCAA tournament. Which makes it confusing that they couldn't deal with the team that actually DID finish last, ultimately losing 51-45.
The numbers bear it out: 17-54 shooting from the field, 10-24 from the free throw line, 1-8 from three-point range. Not that Virginia Tech was much better, mind you. The Hokies sharpshooter, Vanessa Panousis, finished with 20 points but was held scoreless for the first six minutes. Bottom line to an ugly game: Tech went 11-13 from the line, the Panthers 10-24.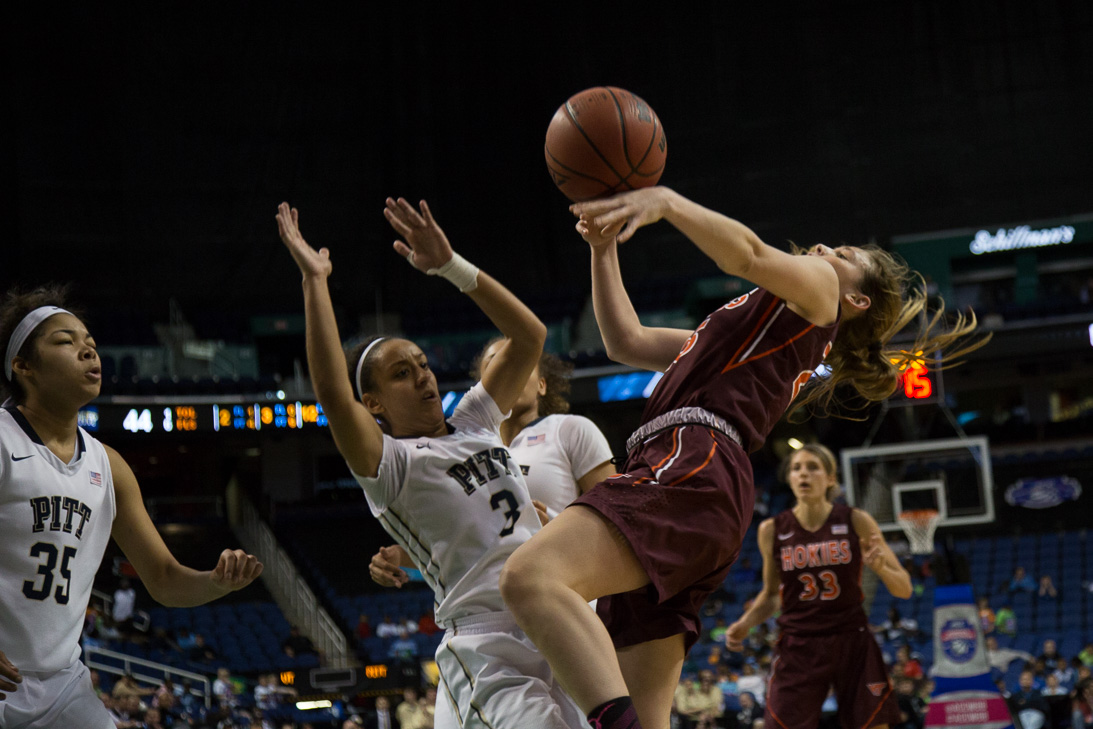 Game Four: No. 6 North Carolina vs. No. 11 Georgia Tech
Georgia Tech came to Greensboro needing wins, trying for an at-large berth in the NCAA Tournament. They dispatched first-round opponent Clemson with ease, but for their efforts drew a UNC squad loaded with talent and athleticism. Still, most figured this would be the day's tightest matchup. Most were incorrect, as the Tar Heels prevailed 84-64.
Actually, the game was back-and-forth for the first few minutes until the sensational Stephanie Mavunga imposed her will. Mavunga finished the first half with 14 points and 7 rebounds. The Heels finished the game shooting 50 percent from the floor, 41 percent from three. Not a bad showing for coach Sylvia Hatchell's first tournament game since 2013.