There is a cheer the Stanford band does. Two X plus 4, where X is your score. It is a brainiac cheer. It would be chanted, for example, when one team has 9 points and the other team has 22 points. Two times 9 is 18, add four and you get 22. It is pointing out that the team with 22 has more than doubled your score, and it rhymes. The band has used it against many, many Stanford opponents over the years. C and R have never, ever seen it used against Stanford. Cue a dark and stormy night at Maples.

The Stanford Women's Basketball Team was playing North Carolina in the Elite Eight with the winner going on to the Final Four. As C and R mentioned, it was raining outside, and raining threes inside Maples. Just it was North Carolina making it rain. They popped 5 of 6 threes early in the first half, Stanford had four straight turnovers, and before you could dry off, it was 9 to 22 with 12:46 left in the first half (Two X plus four indeed!).

To Stanford's credit, they did not panic. UNC did their job and was taking All-Everything Chiney Ogwumike out of the game. They were double and triple teaming her in the paint and not letting her get an offensive rebound. She was not touching the ball.

Stanford responded by hitting some threes of their own. By the end of the half, both teams combined for 15 made threes. Seven for UNC, eight for Stanford. Stanford was lucky to be down only 30-36. And they were hoping and praying UNC could not keep making those threes, or else head coach Tara Vanderveer told her team to guard the 3-point line. Either way, UNC only made two more 3-pointers in the second half.

Give an assist to older sister Nneka Ogwumike giving Chiney a pep talk at the half, too. Also keeping Stanford in the game was Mikaela Ruef, the fifth year senior who did not want to remember last year's loss in the Sweet Sixteen. She hit three 3-pointers, a career high. She has never hit more than one in a game before. Before this game, her career total for threes was seven for all five years. She scored a career high 17 and grabbed nine rebounds.

With Stanford hitting threes, UNC came out on the perimeter and left Chiney Ogwumike alone one-on-one in the paint. And what, Stanford fans, do C and R say when they leave Chiney alone one-on-one in the paint? Chin-nay all day. That was the turning point. Chiney Ogwumike scored 16 of her game-high 20 points in the second half, and added 10 rebounds for her 26th double-double of the year. Mikaela Ruef does the things not noticed in the box score. Someone must have noticed, though because she was awarded the regional MVP. A shocker it was not Chiney, but we are sure Chiney does not mind Ruefie picking up some hardware.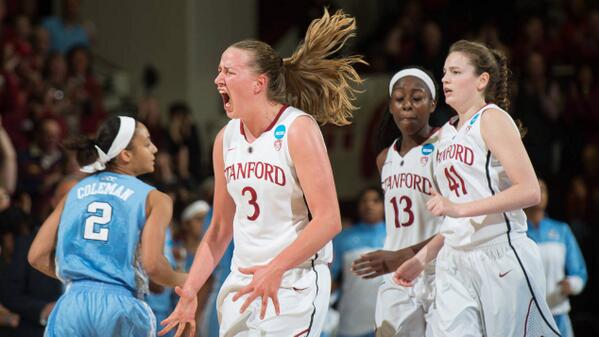 Mikaela Ruef, regional MVP
(Photo: Don Feria/isiphotos.com )

Stanford had five players in double figures, and when has that happened? Never? Amber Orrange scored 12 of her 14 points in the first half to help Stanford stay close. Bonnie Samuelson made three 3-pointers for 13 points off the bench. Freshman Lili Thompson, who doesn't play like a freshman, scored ten points.

Lili only scored ten because she had her hands full guarding UNC's shining freshmen Diamond Deshields (get it, shining). Diamond was limited to 13 points (she averages about 19) and only made one three pointer. To be fair, she was injured with a sprained ankle, knee and wrist and you could tell she was bothered. She said her ankle was hurting in warm-ups but like a warrior, did not want to miss this game. She has a very accurate pull up jumper, but clearly the ankle was affecting her. We have not seen the last of that Freshman.

The lead see-sawed back and forth and it was a one-point game with 1:48 left and a three-point lead for Stanford with 22 seconds left when Bonnie (Miss Automatic) was fouled. She made both of them and Chiney added two free throws and Amber a lay up and Stanford would hold on to win 74-65. The score was not indicative of how close this game was.

Don't know if we have ever seen Stanford come back from so far down. All those Pac-12 blowouts didn't help them prepare. But we have Chiney Ogwumike (and Mikalea Ruef), and a supporting cast that did their role jobs well. Stanford going to the Final Four. Let's just enjoy this before we look to see whom Stanford is playing (Hint: It's UConn).

Follow C and R for Final Four action on Facebook and Twitter, too!